Since 1984, the man they call El Maestro has been making mariachi musicians the world over look good.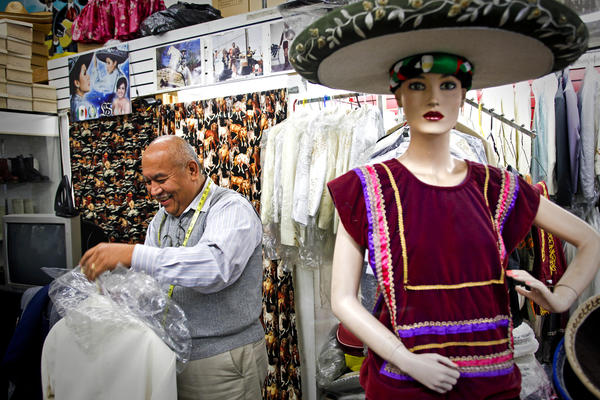 Those with big bellies tend to ask:
"Jorge, can you please make me look thinner?"
The tailor's answer is always the same: "I don't think so. But when I'm done, trust me. You're going to look good."
For 30 years, Jorge Tello has dressed Los Angeles' most stately and most picky performers — the mariachis.
He takes their measurements, tweaks their bow ties, hems their cuffs and stitches on their greca, or suede embroidery. They serenade him and tell him their adventures — of the countless weddings and funerals they've sung at, of the women who tempt them, of the love they have for an art that most months hardly pays the bills.
His customers are characters, with nicknames impossible to forget: El Hamburger. El Caballo. The Mule. The Beast. The Tomatillo.
They call the tailor El Maestro.
Clients flock to his shop in Boyle Heights from Idaho, Miami, New York and New Jersey, even from England and Switzerland. They come willing to pay big, as much as $4,000, for one of his handmade suits.
Most are grizzled musicians with thick mustaches and commanding voices. Others are wannabe cowboys eager to boast. And then there are the stars: Carlos Santana.  Placido Domingo. The Chihuahuas of "Beverly Hills Chihuahua 3."
Tello, a small, reserved man, works methodically atop a stool, using a chalk pencil and an old ruler to cut patterns for each order. He's been around so long, he's dressed three generations.
"First, the father, then the son, then the grandson," he said with a grin that comes easily and often. "Can you imagine? I'm still trying to understand how they let me into this world."
His shop has become just what Tello named it: La Casa del Mariachi.
When Tello was growing up in Guatemala, becoming a tailor was never part of the plan. The plan was to play soccer outside every day, all day, until the sun went down.
But Tello's father, a tailor, insisted that his eldest son help in his shop, ironing and gluing buttons. He lured him with small change and promises.
"This will help you one day," he used to say. "You'll always work in the shade and your hands will never get dirty."
By the time he was 11, Tello was making pants. By 15, jackets. By 16, he could whip up a full suit.
When a family friend, Antonio Rojas, visited from the United States one day, he saw the young man's work. He was impressed. He worked as a tailor in Los Angeles making mariachi suits.
"Come with me," he told Tello. "You have it in you to be a great mariachi tailor."
Year after year, Rojas visited and invited him north.
But Tello was content making regular suits. Mariachsi weren't so common in Guatemala. He had seen a few in the plazas of the capital, but they lacked the pomp and pageantry so revered in Mexico and Los Angeles.
It wasn't until 1984, when he was 30 and still working alongside his father, that he reconsidered Rojas' proposal.
There was a young woman he was supposed to marry. But he had no interest in being married and needed a quick escape.
"You know what they say," Tello, 59, said with a laugh. "The United States is the land of the desperate."
Once he was in Los Angeles, Rojas took him to Boyle Heights and got him a job at Arte Charro, in a small stucco building and with a devoted mariachi clientele.
"There, I had to start all over again," Tello said. "Different techniques, different materials and so much more detail."
There were silver and gold buttons to sew and intricate designs to embroider. Accessories, too: gallon-size sombreros, snake belts, silver buckles, gun holsters, alligator boots, stirrups and bow ties.
He was a quick learner and his talent showed. Six years after he arrived at Arte Charro, the owner died and the family had Tello run the whole store.
He expanded, promoting the business in newspapers and magazines and taking it from four employees to 12. Requests came in from out of state, from media, from Hollywood.
Each time he was interviewed for news articles and Spanish-language TV shows, he was careful to avoid saying he was Guatemalan. He worried that mariachis would turn on him if they found out he wasn't one of their own, a Mexican.
One day a pretty lady with brown eyes and reddish hair walked into Arte Charro. Her name was Estela and she sold mariachi suit buttons. Tello bought a few and fell in love.
Soon after they began dating, she encouraged Tello to open his own store.
"I thought, 'OK, maybe something tiny, a little place where I can rent out mariachi suits,'" he said.
But Estela, who's now his wife, told him, "No, Jorge, you have to think big.'"
So in 2002 he signed a lease on a 3,800-square-foot space in Boyle Heights. It was in front of Mariachi Plaza, where well-dressed musicians, with trumpets and guitars at the ready, hustle for singing gigs.
"The space felt so huge and empty," Tello said. "I thought I would never fill it up."
On a recent afternoon, a big barrel of a man with coifed silver hair walked into the shop. Tello couldn't believe his eyes.
"Lucio Prado?" he said, squinting. "Is that you? I made a suit for you 24 years ago. And now here you are — in my shop."
The girls take one look at me and they go … 'Oooooh.'"
The two caught up like old friends. Prado, who had driven in from Idaho, started recounting his story.
When he moved to Boise in the late 1970s, he said, mariachis were nonexistent. He tried to form his own group but couldn't find any Mexican musicians. So he reached out to the Boise Philharmonic and persuaded a few violin and trumpet players to join him.
"We called it Mariachi Sol de Acapulco," Prado, 62, said. "It was me, my compadre and a whole bunch of gringos."
Tello listened, wide-eyed, to every word. He took Prado's measurements and put in an order to make him a jacket to be shipped to Boise.
He's well aware that over the years, customers could have taken their business elsewhere. Plenty of other tailors make mariachi and charro suits in L.A.
A few times a year, during the high summer season of weddings, tailors also drive up from Tijuana. They target musicians at Mariachi Plaza, offering package deals at dirt-cheap prices.
But with the savings come risks, said plaza musician Roberto Olmos.
"Your pants come back crooked or the fabric is falling apart," he said. "El Maestro is expensive, but he does everything well."
Three years ago, Olmos and 16 other mariachis lost all their suits and instruments when the home they lived in burned down. That included two custom suits Tello had made for Olmos for $800.
Today, the 66-year-old can't afford much of anything in the store. Still, he wanders in all the time, to marvel at the finished pieces.
Frank Leyva of Covina Hills likes to do the same, but he always shows up with money to spend.
Over the years, the 52-year-old, who works as a city inspector — "so I can buy more mariachi stuff" — has amassed an impressive collection of custom-made garments and accessories for his avocation.
"When I walk into a place wearing a $1,300 suit, a $500 hat, a $70 bow tie, a $300 belt and a $500 gun holster, you know what?" he said, standing straight, as if onstage. "I look gooood."
"And the girls?" he said. "The girls take one look at me and they go … 'Oooooh.' And I tell them, 'Breathe, honey. Breathe!'"
His latest design, the third made by Tello, will be black with elaborate embroidery and perhaps Swarovski crystals.
He wears his outfits to perform at events and singing contests, sometimes atop his horse. He wanted to wear a mariachi suit on his wedding day many years ago, but his fiancee rebelled.
"So we didn't get married," he said with a laugh — until 12 years later, when he agreed to wear a regular suit.
Leyva comes exclusively to Tello because he considers his work the best.
"Every suit he makes is an art piece," he said. "It represents Mexico here in L.A."
Nowadays, the tailor never hides the fact that he's not Mexican. An image of a quetzal, the national bird of Guatemala, hangs proudly in his shop. The space is packed and festive, display cases packed with merchandise Estela brings monthly from Mexico.
Tello works in the front of the shop, cutting patterns, while his sister, Patricia, makes bows and manages the shop's website. A few workers help in the back.
Three years ago, when the economy sank, he nearly closed his doors. Today the expenses, thankfully, even out.
He has no children, so when he goes, he said, his sister will probably take over.
"But that won't be for a while," Tello said. "If God lets me, I plan to be here for a very long time."