RRM International is once again acknowledging another chicana from the heart of East Los Angeles Arizona Maravilla: Hope Sandoval.
Here at RRM International we are proud to see Hope still active in her talents. As a kid I personally grew up listening to her. I loved her music and her voice was the talk of East Los Angeles for quite some time. She made East Los Alt come to life and to see her stardom all over the world as a chicana made our raza look good! Below is a brief history of Hope and her success.
– Adela

Hope grew up in a Mexican American family in East Los Angeles, California. In 1986, she formed the East L.A. folk music duo Going Home with Sylvia Gomez, and recorded one album produced by David Roback.
Hope performed with the band Opal in the late 1980s alongside David Roback and long-time Roback collaborator Kendra Smith. After Smith's abrupt departure during a tour of the UK (hurling her guitar to the floor at the Hammersmith gig), Sandoval took over lead vocals. At the end of the tour, Roback and Sandoval began writing together and formed the alternative rock band Mazzy Star.
The first Mazzy Star album, She Hangs Brightly, was released in 1990. While not a commercial success, this album did establish Mazzy Star as a band with a unique sound. The band had a surprise breakthrough hit single released in October 1993. "Fade into You" – from its second album So Tonight That I Might See – was recorded one year before it became a success. There is a continuity between the sounds and moods established on Mazzy Star's first two albums and its third, Among My Swan.
After 1996, Sandoval collaborated with a series of artists, including Air, Bert Jansch, Death in Vegas, Le Volume Courbe, Richard X, The Chemical Brothers, The Jesus and Mary Chain, Twilight Singers, Vetiver, Massive Attack and Psychic Ills.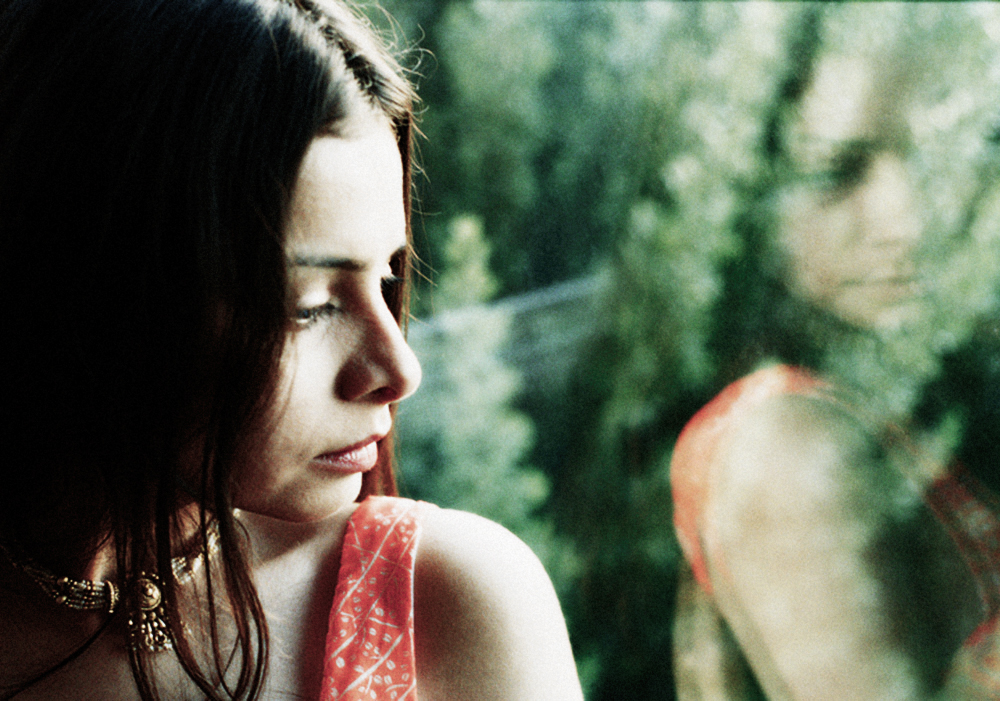 Sandoval formed The Warm Inventions in 2000 and released her first solo album Bavarian Fruit Bread in 2001, which she recorded with My Bloody Valentine drummer Colm Ó Cíosóig. The album differed in terms of theme, voice, and instrumentation from that of her work with Mazzy Star. Bert Jansch plays guitar on two tracks, and the album features two covers, "Butterfly Mornings" from the film The Ballad of Cable Hogue (1970) and Jesus and Mary Chain's "Drop".[5] The Warm Inventions released two EPs, At the Doorway Again in 2000 and Suzanne in 2002 but did not win commercial success, with one video on MTV and little radio play. Sandoval recorded a song, "Wild Roses", for a compilation CD released by Air France, In the Air (2008).
Hope Sandoval and The Warm Inventions released their second album, Through the Devil Softly, on September 29, 2009.
Sandoval and her band were chosen by Matt Groening to perform at the edition of the All Tomorrow's Parties festival he curated in May 2010 in Minehead, England. The group also played the ATP New York 2010 music festival in Monticello, New York in September 2010 at the request of film director Jim Jarmusch.
In 2009, Sandoval confirmed in an interview with Rolling Stone that Mazzy Star was still active: "It's true we're still together. We're almost finished [with the record]. But I have no idea what that means." In October 2011, the group released the single "Common Burn"/"Lay Myself Down", their first material in 15 years. The group stated that they had plans to release the album in 2012. In July 2013, "California", the first single from the new album was released. The album, Seasons of Your Day, was released in September 2013.
Website: Hope Sandoval